This one goes to 11.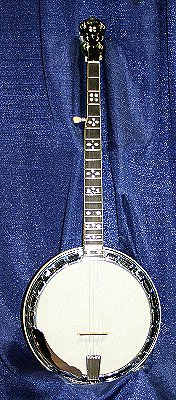 Road trip to Nashville is complete!
Visited a few stores, and even got a private tour of a small banjo factory. Dragged my friends, wife, and baby with me, and most of the time they seemed to enjoy themselves. The final trip was to the farmhouse of a semi-famous banjo player and master craftsman, Paul Hopkins. He builds banjos one at a time with his son, and has over 30 years of experience in the business.
Like many independent banjo builders, he owns a couple of pre-WWII Gibson banjos, which are considered by most banjoists to be the Holy Grail of banjos. Paul, in fact, has inherited the actual 1934 Gibson that Earl Scruggs plays in the opening track ("Ground Speed") of the uber-famous Foggy Mountain Banjo album. And of course, he even played that tune for me on said banjo. 🙂
So, as you might expect, Paul and others have spent years trying to build new banjos that imitate that magic pre-war banjo sound. They model the neck and resonator, and then pour in their own tricks. Folks like Tony Pass, out in Arknasas, have figured out super-secret ways of squeezing together a 3-ply block-rims out of submerged mega-dense wood. Each banjo takes days to hand-carve and assemble in these shops, and let me tell you, you get what you pay for! Here you can see Paul, Tony, and former collaborator Mike (R.I.P) sitting in Paul's sound studio, the very place where I got try out the completed banjos.
And so I finally found The One, made of glistening walnut and chrome. There's really no way to describe the sound of this thing. It makes my $300 banjo sound like a toy. It has a ring that is smooth and beautiful when played softly, yet knocks down walls when I start picking harder. I need to actually be careful when I play this thing, I'm not used to the giant bolts of electricity shooting out of it. I fear its power, and expect it will take me years to learn to control it. I suppose the only thing to do is lay down a track or two and post a recording for all to hear!
Sure, I could have driven to central Michigan and bought the same banjo from a store, but it's just incredible to see the exact tools, benches, and pieces of hardware whence your instrument was born. It's even better to know the craftsman personally. If something goes amiss with the banjo, I can phone Paul and ask for advice, or just ship it out to him for servicing. He wants to take care of his "babies", you could say. That's the sort of attention you just can't find at a retail store!
This is the banjo for the Rest of My Life, well worth the two years of research and savings. It's the banjo to pass down to my heirs. And holy moly, does it inspire me to practice!
(P.S. If you haven't clicked the links above, do so. There are some nice photos.)