Tuna: Genova
This week's tuna is what I refer to as "old reliable" — Genova brand tuna. It may not be the finest out there, but like a good friend, it's always available and satisfying. It's still a step above the common mass-produced tuna of Starkist and Chicken of the Sea, though not by much. Genova is really a sub-brand of Chicken of the Sea, packaged fancily to appear that it just arrived off the boat from Italy, rather than a fish-farm: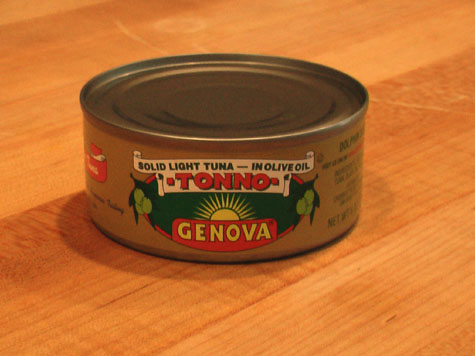 To the untrained buyer of tuna, the two distinguishing features of this can (beyond the foreign-language marketing) are (1) it's packed in olive oil, and (2) it's yellowfin tuna. And no matter how you beat around the bush, it's hard to put down yellowfin. It just tastes better than the more common bluefin or pale-bland albacore species that fill most of the supermarket shelf. It's got a richer flavor and all-around meatier texture.
The olive oil is cheap and mixes entirely with the tuna. The result is a cloudy, mucky solution that my cat won't come near. But does it matter? Not really. One could argue that the total exchange of olive and fish oils is precisely what makes the tuna's flesh taste so good. It's not a "pure" tuna taste, but some sort of rich hybrid of animal and vegetable fats.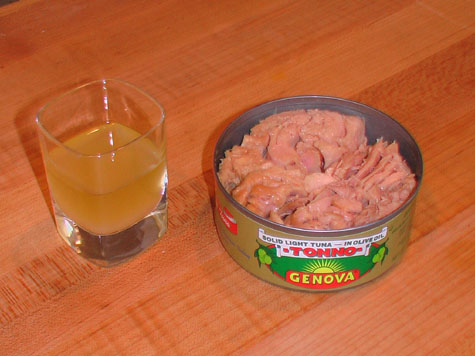 Let's me honest here. There's a time for snobiness, and a time to just get down-and-dirty with the common folk. You can go around ordering eight dollar beers at yuppie bars, but when you've been out sweating in the sun all day doing garden-work, nothing tastes better than a cheap Corona. Likewise, when I just need to kick back after a long day of changing 1's into 0's and 0's into 1's, nothing satisfies my primal fish urge better than a can of Genova. It's not a tuna for the ages, but it's still my basic pantry staple. I couldn't go without it.
This is a working-man's tuna. I salute it heartily.