All (sub)cultures have rituals, and ham radio is rich with them. Before the Internet, the only way to talk to someone in another country was to either (1) get a pen-pal, or (2) pay megabucks to talk long distance. It was thrilling to throw a wire in your backyard tree, solder some circuits, yell into the void, and be answered by a random geek across the sea!
It was such a big deal, in fact, that a whole tradition of exchanging business cards rose up around it. Except it's not exactly a business card, but more like "I'm a radio geek" postcard. After chatting with a stranger, you send him a card with your callsign, a picture of your city, and a bunch of details confirming the contact (date, time, frequency, signal strength, etc.). He sends the same thing back to you. Then you both hang the cards on your walls next to the dozens of others, a virtual trophy case of how l33t your radio communication skills are. They're also often the proof required to win certain communication contests.
They're called QSL cards, and you can read all about them on wikipedia (and see even more examples of them if you do a Google image search. It can be a real art form.
Well, after making a couple dozen contacts, somebody finally sent me a QSL card from Mississippi. So I was forced to design and print a bunch of my own. I'll be sending my new design back to the guy tomorrow. Here's what the front and back look like: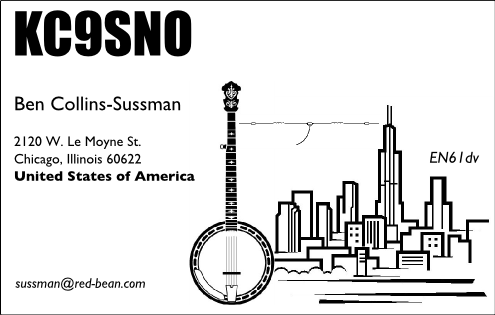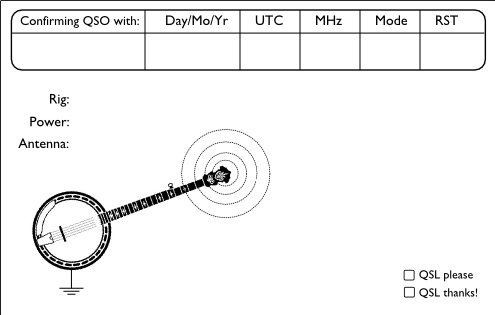 (I did the whole thing in Inkscape on Linux, and I'm crazy impressed… it's just as powerful as Illustrator!)